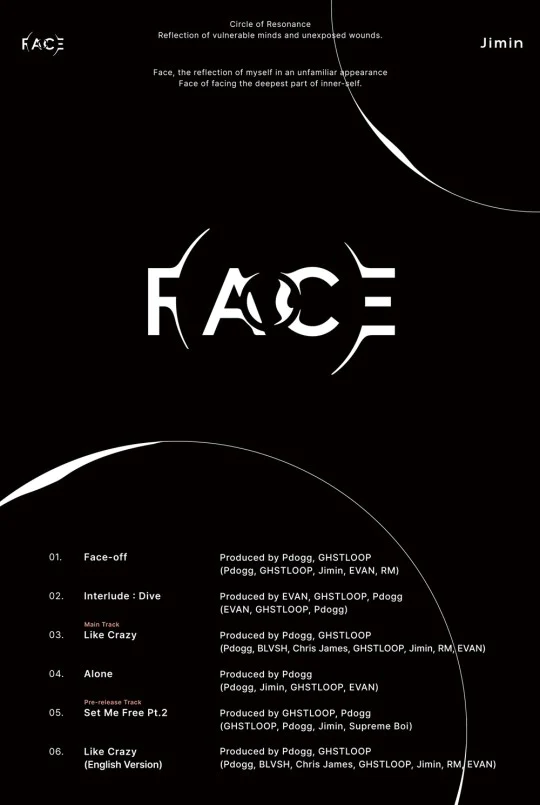 As the release date of BTS member Jimin's first official solo album 'FACE' on March 24 approaches, the anticipation for the album has grown with the release of the tracklist.
On the 24th, the agency posted the tracklist image of 'FACE' on Jimin's official SNS. The album title 'FACE' is depicted as if it were a ripple effect on a black background, with the tracklist listed below.
According to the released tracklist, 'FACE' includes pre-release song 'Set Me Free Pt.2' and title track 'Like Crazy' (Korean and English versions), as well as 'Face-off', 'Interlude : Dive', 'Alone', and more. Jimin is expected to reveal his unique music world by participating in the song production of this solo album.
The short video 'Behind the 'FACE'' which contains the process of Jimin's solo album production, also caught attention along with the tracklist.
In the video, Jimin focuses on song production and actively participates in the production of the album to incorporate his color. As the story of preparing for a new start as an artist Jimin is reflected in 'FACE', he completely faces himself.
According to the agency, 'Set Me Free Pt.2', which will be released on the 17th ahead of the album release, is a song that embodies the will to shake off various inner emotions and move forward freely.
Moreover, the title track 'Like Crazy' is a Synth Pop genre song that highlights Jimin's poignant tone on the powerful synth sound and drum sound.
Pdogg, Supreme Boi, GHSTLOOP, EVAN, BLVSH, Chris James, BTS RM, and other talented musicians also participated in 'FACE'.